The Mick Peat Drystone Bursary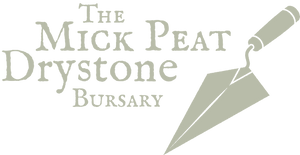 Building His Legacy
Applications for The Mick Peat Drystone Bursary are now welcome. Applications close on August 31 st 2021.
Our priority at Drystone is to follow Mick's guide by making your Bursary application as simple and accessible as possible. Mick would have been daunted by too many questions and too many boxes to tick. If you struggle at all, ask a friend or family member to help, or you can contact us: Drystone welcome you. Your application will help us to help you - sustaining the legacy of a truly great man whose life was dedicated to bringing people together.
"The Mick Peat Drystone Bursary to encourage and facilitate creativity in all its forms and bring people together."
We have placed no limits on how you identify your creative work. Examples could be: music, dance, theatre, poetry, painting, textiles, photography, film-making, ceramics, dry stone walling – but don't be constrained by these – add your own. The Bursary Application is open to single or group applicants and additionally we could offer mentoring in certain disciplines.
Click here to access the application form
What we can't escape is that this is a competition and will be adjudicated by the Drystone executive and of course Mick's family. We welcome all applicants and send you our best wishes. Good luck.
Closing date: August 31st, 2021.
Receipt of your application will be acknowledged within 14 days.
Given an improvement in Covid restrictions and the chance to gather together again, the Bursary Award will be presented on The Mick Peat Stage at Derby Folk Festival 2021 on October 2nd.
If you want to find out more about Drystone, our ethos and mission statement, please explore the rest of drystone.co
John Tams – Artistic Director on behalf of Drystone
Want to contribute?
The Mick Peat Drystone Bursary is crowdfunded and the more donations we get, the more we will be able to support people. To contribute to the bursury, please visit the JustGiving page.
About Our Mick
This bursary was created in the name of our founding President, Mick Peat, who sadly passed away January 22nd 2021, aged 80. We have collected some of the many kind words, stories and memories about Mick on his tribute page. We will be continuing to add them, so if you would like to share your own, please Get in touch.