Something a bit different…
If you're thinking that Drystone is only about folk music, song and dance then we're happy to tell you that our focus is far more wide-reaching than that!
We're keen to support all types of creativity and one of our favourites is being launched by Holly Hutchinson - Ringmaster and Director of Circus Strong.
Read Holly's Q&A to see what she has to say about her new venture…
Drystone: Tell us about The Whiskey Locker
Holly: The Whiskey Locker is a brand new piece of aerial theatre, due for release at the end of this month, which follows the story of a young transgender aerialist after being dumped by her girlfriend.
As well as being entertaining and a great night out, our aim is to also make The Whiskey Locker thought provoking. We hope to bring forward the issues that are affecting the transgender community in an engaging way that will capture the audience's attention. Hopefully, in turn this will help to reduce marginalisation and improve the quality of life for everyone in the community.
Drystone: What can we expect from the show?
Holly: It combines aerial circus disciplines with a strong story line and incredible rock music which will take you on a roller coaster of emotions. Unlike traditional circus, and even Cirque Du Soleil, we wanted to avoid hidden meanings in the drama. So instead we've spent a lot of time on creating strong dialogue that brings you into the hardships and challenges of the character's lives. …I suppose you can expect a storyline that's closer to Coronation Street.
We've done it this way because we want the dialogue to be impactful and true to life. Don't worry though as there's still a balanced amount of comedy in there to keep it light-hearted!
Drystone: Who are the cast?
Holly: We're incredibly lucky to have a talented cast made up of a diverse range of disciplines. These include a transgender performer, a drag artist, a fire breather and acrobats. I play the main character(s) Steve and Holly. Natalia Winnicka plays Roxanne, Rhianon Hill plays Paris, Ash Mountford plays Felicity Spankbank, and Jane McMullan plays Jenny.
All our circus artists are amazing, but they're not actors. So trying to get the cast to work comfortably with dialogue and make it believable has given a few challenges as it's something that's quite new to them. We've worked incredibly hard though and rehearsed regularly and it's all paid off as you can see the incredible transformation that the cast has made in their professional development.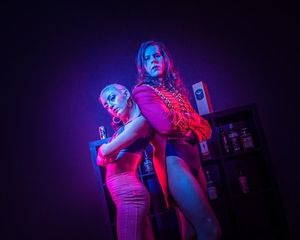 Drystone: Were other people involved?
Holly: Absolutely! We wanted to make sure the main character is truly representative of the modern day trans woman and so I ran a series of workshops to meet other trans and queer creatives to get input on the representation of the main character and the wider LGBTQ+ themes in the show. There was also an opportunity for us to discuss the challenges faced by the LGBTQ+ creative sector and to ensure care and community is at the heart of making The Whiskey Locker.
If anyone can spare an hour we'd love to hear your opinions and ideas. To take part please check out our website https://thewhiskeylocker.co.uk for details… but hurry because the final workshop takes place on 20th October – so book soon!
Drystone: Is the show focused towards an LGBTQ+ audience only?
Holly: No it's not. This couldn't be further from the truth! Everyone is very welcome regardless of how they view their identity. We are inclusive and look forward to meeting you. …and besides which it's going to be a great show and it's only fair that everyone gets a chance to watch it!
Drystone: Have you commissioned the music for the show?
Holly: No, we've written it ourselves! We think it's great and we're incredibly pleased with how it's turned out. See if you agree?… Keep watching our website for performance dates and times and make sure you book your ticket as soon as they're released!
https://thewhiskeylocker.co.uk
The Whiskey Locker is supported by Arts Council England, with premieres on 30th January 2022.